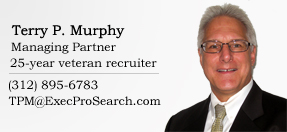 I'm a professional financial recruiter with more than 25 years in the Chicago banking community. I started recruiting in the banking industry in 1987 when I joined the nationwide recruiting firm of KForce/Romac & Associates. I spent 5 years with Romac and 2 years with another local recruiting firm before establishing Executive Pro Search with Stephen Wetzel in 1994. I have developed extensive relationships with senior executives with small middle market banks, regional money center banks, and large international banks to name just a few.
Prior to recruiting, I built a wealth of experience in data processing, accounting and finance roles with Arthur Andersen, Baxter Travenol and First National Bank of Chicago.
I received my MBA from the Walter E. Heller School of Business at Roosevelt University, and my BBA from Western Illinois University, both in finance and marketing. I am a certified internal systems auditor and a certified systems professional.
I'm a member of the MBA Association, the MIS Association, and the EDP Auditors Association.